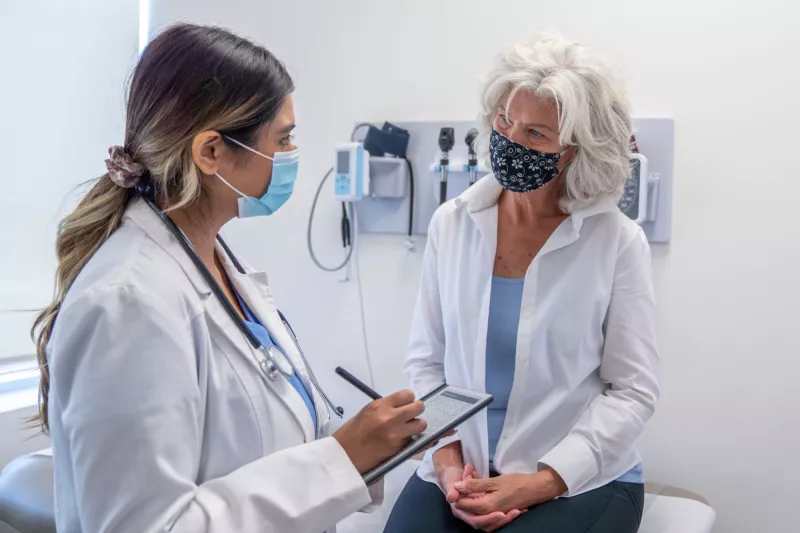 Flu Testing and Treatments at Centra Care
If you are experiencing symptoms of the flu, it is important to see a doctor or visit a clinic within two days from the start of your symptoms. A doctor will be able to test you for the flu and determine the appropriate treatment.
Centra Care locations offer rapid flu tests, and your results are usually available within 15 minutes. If you have the flu, your doctor may recommend certain treatments to get you on the road to recovery sooner.
There are several flu treatments available. The most common flu treatments are antiviral drugs, including Tamiflu®. Flu treatments can protect you from developing complications from the flu, like pneumonia. They can also help you feel better sooner (shorten the duration of your illness), and they can make your symptoms less severe.
Walk into your local Centra Care location today for flu tests and treatments near you.
Atención rápida para necesidades urgentes
Los médicos certificados de AdventHealth Centra Care, te brindan atención pediátrica y para adultos cuando la necesitas. Nuestros centros de atención de urgencias están abiertos los siete días de la semana, y algunos centros están abiertos hasta medianoche. Centra Care es la alternativa más económica a la sala de emergencias para casos urgentes como: fracturas de huesos, infecciones, alergias, problemas estomacales y problemas pediátricos. También estamos a tu disposición para ayudarte a tomar el control de tu salud y bienestar futuro. Nuestras clínicas de atención ambulatoria ofrecen servicios preventivos como: vacunas contra la gripe, radiografías, electrocardiogramas y exámenes físicos. En Centra Care, encontrarás profesionales médicos compasivos que te brindan atención médica para que te recuperes y te sientas mejor lo antes posible.
9 items. To interact with these items, press Control-Option-Shift-Right Arrow
LOS PACIENTES SIN CITA PREVIA SON SIEMPRE BIENVENIDOS

Los pacientes ambulatorios son bienvenidos en cualquier centro de atención urgente, los siete días de la semana. Te recomendamos que hagas una cita en linea para ahorrar tiempo, aunque no es obligatorio hacerla para recibir nuestra atención médica.

ATENCIÓN PARA TODA LA FAMILIA

Desde dolor de garganta ,malestar estomacal , examen físico para practicar deportes y vacunas contra la gripe, nuestros médicos de medicina familiar te brindan a ti y a tus seres queridos la atención médica experta que necesitan.

ATENCIÓN ORTOPÉDICA

Nuestros médicos especializados pueden tratar muchas necesidades ortopédicas, desde quebraduras de huesos y esguinces hasta artritis y dolor de espalda. Con las máquinas de rayos X en cada centro de atención urgente, tienes acceso a un diagnóstico rápido y una atención compasiva y completa.

SERVICIOS DE ATENCIÓN PRIMARIA

Para ayudarte a sentir pleno ahora y en el futuro, AdventHealth Centra Care te ofrece servicios de atención primaria en centros seleccionados de atención urgente. Y para adaptarnos a tu ocupada agenda, ofrecemos horarios extendidos para citas de atención primaria.

ATENCIÓN PEDIÁTRICA

Sabemos el estrés que puedes sentir cuando tu hijo tiene una enfermedad o lesión. Con docenas de centros y horarios extendidos, puedes contar con Centra Care para recibir atención pediátrica urgente y asequible cuando más la necesitas.

ACCESO A MEDICAMENTOS EN LA CLÍNICAEL MISMO CENTRO

Después de una visita de atención urgente, lo último que quieres es hacer otro viaje a la farmacia. Nuestras clínicas proporcionan recetas comunes y medicamentos de venta libre, para que puedas concentrarte en lo que realmente importa: sentirte mejor lo antes posible.
What's Going Around Blog
Stay up to date on common illnesses and symptoms going around our community. Plus, get tips on how to keep you and your loved ones healthy in body, mind and spirit.