Temporada de gripe en Florida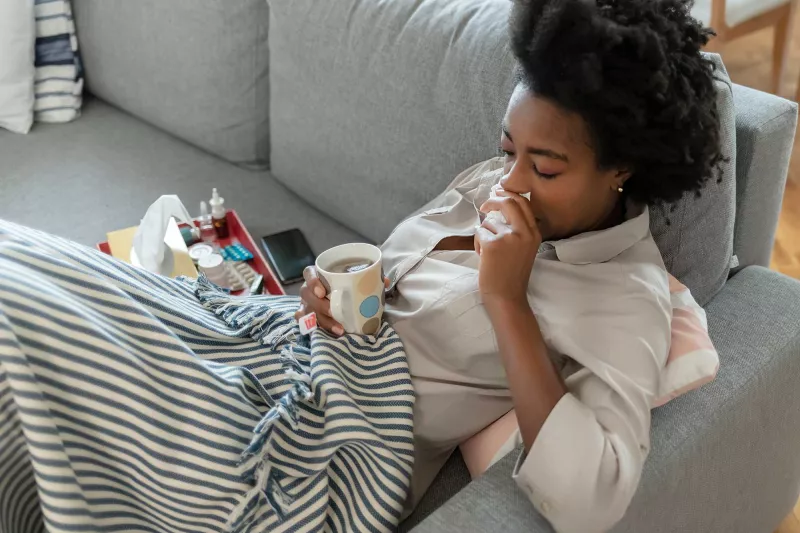 Choose the health content that's right for you, and get it delivered right in your inbox.
Influenza, commonly referred to as the flu, is a viral infection that attacks the lungs, nose and throat. Florida is already well into flu season, and many people are looking for answers.
To help you make the best healthcare choices for you and your loved ones, we've gathered helpful information and resources about flu season. In this post, you'll learn more about the spread of the flu, flu prevention tips, and where you can go to get flu tests and treatment near you.
An Important Note Before You Read
Don't use this blog as a substitute for a medical diagnosis. If you or someone you know doesn't feel well, talk with your doctor right away. You can easily have a video visit with one of our online providers through the AdventHealth app.
Table of Contents
An Important Note Before You Read
Table of Contents
2023 Flu Season in Florida
How the Flu Spreads
Flu Shots and Flu Prevention
Symptoms of the Flu
Flu Testing in Florida
Florida Flu Treatment
Flu Tests and Treatment in Florida

Volusia County
Seminole County
Flagler County
Orange County
West Florida

Health and Wellness During Flu Season
2023 Flu Season in Florida
The flu is more common during flu season. Flu season occurs during the colder months, starting as early as October and sometimes continuing into May, although it usually peaks between December and February. You can learn more about the spread of the flu in each Florida county at the Florida Department of Public Health website.
How the Flu Spreads
The flu can spread in a few ways. The most common way is through small droplets of moisture, called respiratory droplets, which enter the air when someone who has a flu infection sneezes, coughs, or talks. It is also possible to contract the flu if you touch a surface that has the flu virus on it then touch your nose, mouth, or eyes.
Those who contract the flu are most contagious in the first 3-4 days after symptom onset. But healthy adults can be contagious for up to a week after becoming sick, and children or those with weakened immune systems might be contagious for even longer.
Flu Shots and Flu Prevention
Getting the flu vaccine is the most effective way to protect yourself from the flu. According to the CDC, flu shots prevent millions of infections every year. Getting a flu vaccine can protect you from getting sick. And if you do get sick, your symptoms will likely be less severe. Flu shots also reduce the risk of hospitalizations due to flu-related complications, and they can help protect those around you.
In addition to getting an annual flu vaccine, it's important to wash your hands often, avoid touching your face when possible and avoid contact with people who are sick. When you feel sick, it is important to stay home and avoid contact with others to help prevent the spread of the flu.
Symptoms of the Flu
Many illnesses have similar symptoms. When you start to feel sick, it can be difficult to know if you have COVID-19, the flu, a cold or allergies.
Flu symptoms usually begin about two days after exposure to the virus. The most common symptoms in adults include:
Chills
Dry Cough
Fatigue
Fever
Headache
Nasal Congestion
Runny Nose
Sneezing
Sore Throat
Shortness of Breath
Skin Rash/Discoloration
Though it might be surprising for some people, less-common symptoms include nausea, vomiting and diarrhea. Some people also experience a loss of taste or smell. While it is rare, some people with flu can be asymptomatic, meaning that they don't experience any symptoms.
The flu can lead to complications like pneumonia. Certain groups are more likely to experience flu complications, including adults aged 65 and older, children aged 2 and younger and people who are pregnant. People with certain chronic conditions like diabetes or asthma also have a higher risk of developing flu complications.
Flu Testing in Florida
If you or a loved one is experiencing flu symptoms, it's important to visit a flu walk-in clinic, like AdventHealth Centra Care, or see a physician as soon as you can. Early flu diagnosis and proper treatment can help you feel better faster and reduce the risk of complications.
A flu test helps medical professionals determine whether you have the flu or not. There are several different types of flu tests, with the most common type being a rapid influenza diagnostic test (RIDT). This test is performed by taking a swab of the inside of your nose. The swab is then placed in the flu test kit, which will give your healthcare provider results in only a few minutes.
Flu tests help your healthcare professional determine the best treatment for your illness. If you have the flu, there are treatments, like antiviral drugs, that can help you feel better faster and make your symptoms less severe. While many people think they should just wait out the flu at home, it can be a very serious illness. Getting tested and treated can reduce your risk of complications, reduce the length of your illness and lessen the severity of your symptoms.
Florida Flu Treatment
There are several flu treatments available, and a medical professional can help you determine which one is right for you. The most common flu treatments are antiviral drugs, which help your body fight viral infections. The FDA has approved several drugs to treat the flu:
Tamiflu®
Relenza®
Rapivab®
Xofluza®
Tamiflu® is available onsite at most Centra Care locations for just $30. If you test positive for the flu, you can get this flu treatment at all of our Florida locations without having to make an extra trip to the pharmacy. Get in quick, and start feeling better faster.
Most people know that the flu can be a serious illness, but many assume that flu symptoms are just something to tough out. In reality, the flu can be deadly, particularly for vulnerable populations like young children and the elderly. As a result, it's important to seek flu treatment as soon as possible if you or someone you know is showing signs of the flu.
Early treatment can help to lessen the severity of symptoms and shorten the duration of the illness. In some cases, it can even prevent serious complications like pneumonia. Visit a walk-in clinic or make an appointment with your doctor today if you are experiencing symptoms of the flu.
Flu Tests and Treatment in Florida
Centra Care has more than 50 convenient locations and a wide range of urgent care services. Get the rapid flu tests and treatments you need at a walk-in clinic near you.
Volusia County
● Daytona
1014 West International Speedway Boulevard
Daytona, FL 32114
● DeLand
2293 South Woodland Boulevard
DeLand, FL 32720
● Orange City
1360 Saxon Boulevard
Orange City, FL 32763
● Ormond Beach
1245 West Granada Boulevard
Ormond Beach, FL 32174
● Port Orange
1208 Dunlawton Avenue
Port Orange, FL 32127
Seminole County
440 West State Road 436
Altamonte Springs, FL 32714
2948 West Lake Mary Boulevard
Lake Mary, FL 32746
● Longwood
855 North US Highway 17-92
Longwood, FL 32750
● Ovideo
8010 Red Bug Lake Road
Oviedo, FL 32765
● Sanford
4451 West 1st Street
Sanford, FL 32771
Flagler County
1270 Palm Coast Parkway Northwest
Palm Coast, FL 32137
Orange County
● Apopka
1520 West Orange Blossom Trail
Apopka, FL 32712
509 South Semoran Boulevard
Orlando, FL 32807
630 North Bumby Avenue
Orlando, FL 32803
● Conway
5810 South Semoran Boulevard
Orlando, FL 32822
8014 Conroy-Windermere Road, Suite 104
Orlando, FL 32835
● Horizon West
9225 Miley Drive, Suite 100
Winter Garden, FL 34787
● Lake Buena Vista
12500 South Apopka Vineland Road
Orlando, FL 32836
● Lake Nona
9637 Lake Nona Village Place
Orlando, FL 32827
● Lee Road
2540 Lee Road
Winter Park, FL 32789
● Ocoee
11001 West Colonial Drive, Suite 110
Ocoee, FL 34761
2301 Sand Lake Road
Orlando, FL 32809
2609 South Orange Avenue
Orlando, FL 32806
11550 University Boulevard
Orlando, FL 32817
250 North Alafaya Trail, Suite 135
Orlando, FL 32828
● Winter Garden
3005 Daniels Road
Winter Garden, FL 34787
3099 Aloma Avenue
Winter Park, FL 32792
Lake County
● Clermont
15701 State Road 50, Suite 101
Clermont, FL 34711
● Leesburg
1103 North 14th Street
Leesburg, FL 34748
● Mount Dora
19015 US Highway 441
Mount Dora, FL 32757
West Florida
● Brandon
10222 Bloomingdale Ave
Riverview, FL 33578
● Carrollwood
4001 West Linebaugh Avenue
Tampa, FL 33624
6930 Gunn Highway
Tampa, FL 33625
● Lakeland
3637 US Hwy 98 North
Lakeland, FL 33809
● Ocala
3708 Southwest College Road
Ocala, FL 34474
● South Tampa
301 North Dale Mabry Highway
Tampa, FL 33609
● Temple Terrace
5802 East Fowler Avenue
Temple Terrace, FL 33617
● Trinity
11826 State Road 54
Odessa, FL 33556
● Wesley Chapel
1127 Bruce B Downs Boulevard
Wesley Chapel, FL 33543
● Winter Haven
7375 Cypress Gardens Boulevard
Winter Haven, FL 33884
Health and Wellness During Flu Season
Centra Care is here for you and your family this cold and flu season. If you or a loved one has flu symptoms, make sure you visit your doctor or walk-in clinic as soon as possible. With early treatment, you can feel better faster. In some cases, it can even prevent serious complications like pneumonia. Schedule your appointment today or walk in to your local Centra Care location so we can get you on the road to recovery.