Don't Forget Your Sunscreen This Winter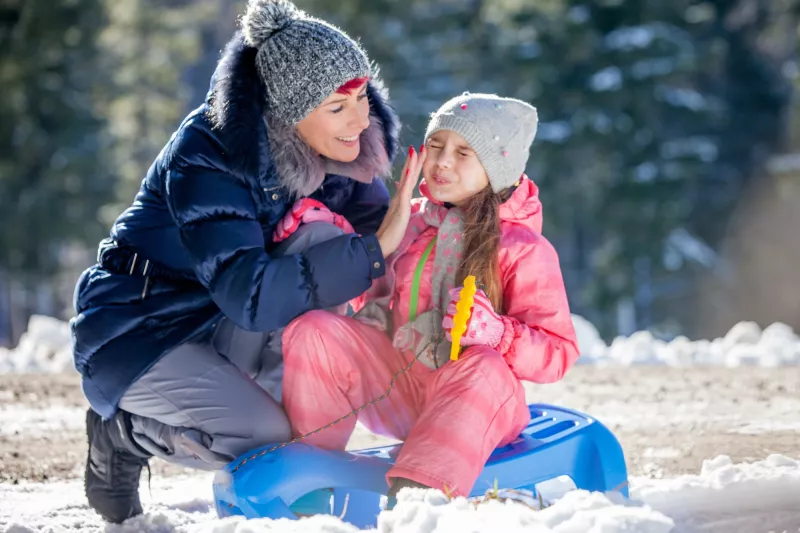 Choose the health content that's right for you, and get it delivered right in your inbox
When the seasons start to change, it can seem counterintuitive to slather on sunscreen. But you may be surprised to learn that you should be protecting yourself with sunscreen every day, during every season — no matter where you are in the world.
Why? Because the same UV rays — that cause skin damage and in some cases, skin cancer — reach your skin, even when it's cold and cloudy outside. In certain winter weather conditions, your skin can sustain just as much sun damage as it would at the height of summer.
Understand the Difference Between UVB and UVA
UVB rays are the number one cause of sunburn. While they're strongest in the summer, they can still damage your skin and cause sunburns in the winter. And at high altitudes, or on reflective surfaces (like ice or snow), they can be particularly powerful. In fact, the snow has been known to reflect up to 80 percent of the sun's UV light. This means the rays are hitting you twice, increasing your risk of premature aging and skin cancer.
UVA rays remain at a constant throughout the year and can penetrate clouds, fog and even glass. UVA rays can damage your skin even if you are indoors on a bright winter day.
Discover Ways to Stay Sun Safe
Your first line of sun defense is clothing. Spring, summer, fall or winter, covering your skin with clothing helps to block harmful UV rays.
Areas that aren't easily covered by clothing and are likely to stay exposed year-round, such as your face, head and neck. So, it's no wonder these are the spots where most skin cancers are found.
To protect these easily overlooked areas, we recommend you wear UV-blocking sunglasses, a broad-brimmed hat and broad-spectrum sunscreen SPF 15+, whenever possible. It's also a good idea to avoid direct sun from 10 am to 4 pm.
It's also important to know how to choose a sunscreen. For a wintertime sunscreen, look for one that can do double-duty as a moisturizer — it should have ingredients like glycerin or lanolin. But no matter the weather, look for a sunscreen that's labeled as:
Broad-spectrum: When a sunscreen is labeled "broad spectrum" that means is protects your skin from both UVA and UVB rays, both of which damage the skin.
SPF 30 (or higher): The American Academy of Dermatology recommends a sunscreen with an SPF rating of at least 30 or higher.
Water-resistant: Most dermatologists also recommend that you use water-resistant sunscreen. It will stay put on wet or sweaty skin for at least 40 to 80 minutes before you have to reapply it. Not every sunscreen is water-resistant.
Learn How to Apply Sunscreen
Once you've chosen a broad-spectrum, high-SPF, water-resistant sunscreen, you next step is remembering to put it on. It takes at least 15 minutes for your skin to absorb the sunscreen, so if you wait until you're outside, you're already putting your skin at risk. It's important to:
Apply sunscreen to all skin not covered by clothing, including the area around your eyes, at your hairline and scalp and over the tops of your ears.
Check the expiration date since an expired product won't protect your skin.
Reapply sunscreen every two hours to avoid sunburn.
Use an SPF lip balm to protect your lips every day.
Know When to See a Dermatologist
If you're at high-risk for skin cancer, it's a good idea to see a dermatologist annually. They can perform a full-body exam to detect any possible cancerous spots or atypical moles.
Before seeing a dermatologist, you can examine yourself. We recommend looking at the spots on your skin — from the bottoms of your feet to your scalp at least once a month. If you notice any of the following, it's time to see a dermatologist:
Brown or black streaks under nails
Dome-shaped growths
Non-healing sores
Moles that change
Moles that looks different from others
Scaly patches
Sores that heal and return
Maintain Healthy Skin Throughout the Year, With a Little Help
Skin cancer is the most common kind of cancer. Staying consistent with your sun protection during the coldest and cloudiest months of the year will reduce your risk of getting it. Just because it is winter, there's no reason to ease up on the sun-safe habits you practice in warmer weather.
At AdventHealth, our providers can identify, diagnose and treatment for the full range of skin conditions, including sun-damaged skin and skin cancer. We're here to help you maintain healthy skin throughout life. Learn more.