Keep Your Family Well This Flu Season
As the saying goes, an ounce of prevention is worth a pound of cure. And when it comes to the flu, this couldn't be truer. So, how do you keep yourself and your family safe this flu season?
Preventing illness from the flu isn't a singular activity but requires multiple approaches, including:
Vaccination: An annual flu shot is recommended as it prepares your immune system to encounter the virus
Hygiene: Wash your hands with soap and water, use hand sanitizer when necessary and cover coughs and sneezes to help curtail the virus's spread
Reduce transmission: Avoid close contact with sick individuals and stay home if you're unwell
Practice healthy habits: Nutrition, exercise, adequate sleep and minimizing face-touching support your overall immune system
Clean and disinfect: Regularly disinfect frequently touched surfaces and stay informed about flu activity in your community
Learn more about how to keep you and your family well this flu season.
Flu Symptoms
It can be hard to know if your high fever and cough are due to the flu or another illness, like a cold or COVID-19. Here are the most common flu symptoms.
Common Symptoms
Chills
Dry Cough
Fatigue (Sometimes)
Fever
Headache
Common Symptoms
Nasal Congestion
Runny Nose
Sneezing
Sore Throat
Shortness of Breath
Skin Rash/Discoloration
Occasional Symptoms
Lost of Taste/Smell
Nausea/Vomiting
Diarrhea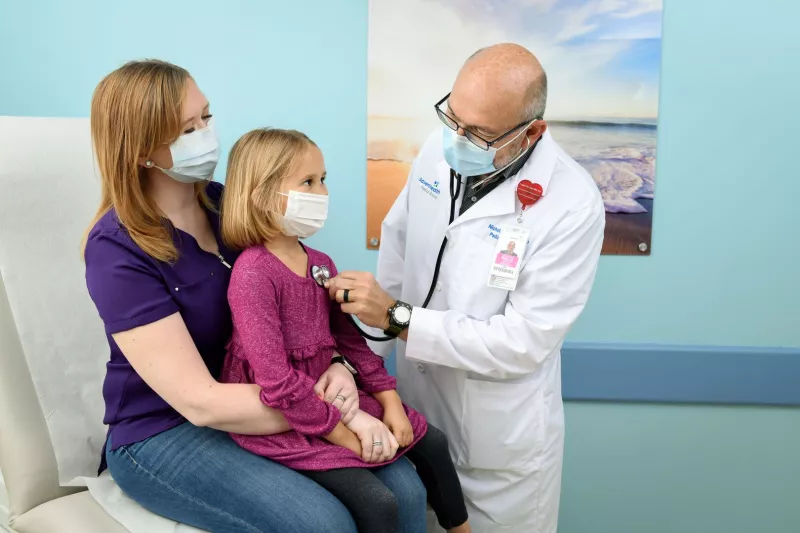 Flu Symptoms in Kids
Flu symptoms can be different for children. Kids often experience nausea, vomiting, or stomach pain along with a fever, cough, and fatigue. Flu symptoms in children often come on much quicker than a cold. Symptoms to look for in your children include:
Belly pain, nausea or vomiting
Body aches
Dry cough
Extreme fatigue
Headaches
High-grade fever with chills
Convenient Flu Prevention and Treatment Services
Life is busy. That's why at AdventHealth Centra Care, we make it easy to find care this flu season for your whole family with convenient hours, affordable costs and locations close to home.
3 items. To interact with these items, press Control-Option-Shift-Right Arrow
Walk-Ins Welcome

We want to make it convenient to fit in wellness when and where you can, which is why you can walk into any of our AdventHealth Centra Care locations for flu shots, rapid testing or treatment. Or, if you'd prefer, make an online reservation. We're here for you whenever you need us.

Onsite Flu Medications

Flu antiviral medication, like Tamiflu® (oseltamivir phosphate), can reduce the severity of symptoms and the duration of the flu. We make it easy to save yourself a trip to the pharmacy with $30 Tamiflu onsite at many locations. We also offer other common prescriptions and over-the-counter medications at most locations.

Immunizations

Prevention counts, especially with avoidable and seasonal illnesses. We offer flu shots for just $30 with no insurance required, as well as other immunizations to protect your health at work, school and while you travel.
A Typical Flu Recovery Timeline
Flu recovery varies from person to person, as it is largely dependent on individual health, flu prevention and any interventions such as antiviral medication. But the average person recovers from the flu in 10 to 14 days.
Remember, the best way to manage the flu is to prevent it in the first place by getting your flu shot and maintaining healthy hygiene and habits. But if you do catch the flu, give yourself the time and care you need to recover.
Onset of Symptoms (Days 1 to 2)

Onset of Symptoms (Days 1 to 2)

People often comment that coming down with the flu feels like getting hit by a truck, as symptoms can begin abruptly. You might experience a sudden onset of fever, chills, body aches, fatigue, cough, sore throat and sometimes a runny or stuffy nose. These symptoms can make you feel lousy right from the start. This is the ideal time to seek flu treatment to reduce the effect and length of symptoms.

Peak Flu Symptoms (Days 3 to 5)

Peak Flu Symptoms (Days 3 to 5)

Around day three, your symptoms might be at their worst. This is when fever, body aches and fatigue can be most intense. Coughing and congestion might also increase during this period.

Gradual Symptom Improvement (Days 5 to 7)

Gradual Symptom Improvement (Days 5 to 7)

After symptoms peak, you should start to notice a slow improvement. The fever may begin to subside, and your energy levels might slowly return. However, you might still experience a lingering cough and fatigue.

Continued Recovery (Days 7 to 10)

Continued Recovery (Days 7 to 10)

By the end of the first week or so, most people see a significant improvement. Your energy levels should be getting back to normal, and the worst of the symptoms should be behind you. Cough and fatigue might persist, but they should be less intense.

Complete Recovery (Days 10 to 14)

Complete Recovery (Days 10 to 14)

Around the second week, you should be on the road to a complete recovery. Most flu symptoms should have subsided by now, though some people might experience a lingering cough or fatigue for a bit longer.
Flu Tests and Treatments Near You
With more than 50 convenient locations, we're making it easy to get the flu tests and treatments you need.
4 items. To interact with these items, press Control-Option-Shift-Right Arrow
Central Florida Flu Care Locations

West Florida Flu Care Locations

Kansas Flu Care Locations
Online Reservations for Flu Testing and Flu Shots
If you or a loved one are having flu symptoms or haven't yet gotten vaccinated, come in as soon as possible. If you can get treated and tested in the first two days of symptoms, you'll have the best chance of feeling better fast. Reserve an appointment online and get the convenient care you need.
Good Reads for Better Health During Flu Season
Explore our experts' recommendations for how to keep yourself and your family safe all season long.