Get a Flu Shot to Protect Your High-Risk Loved Ones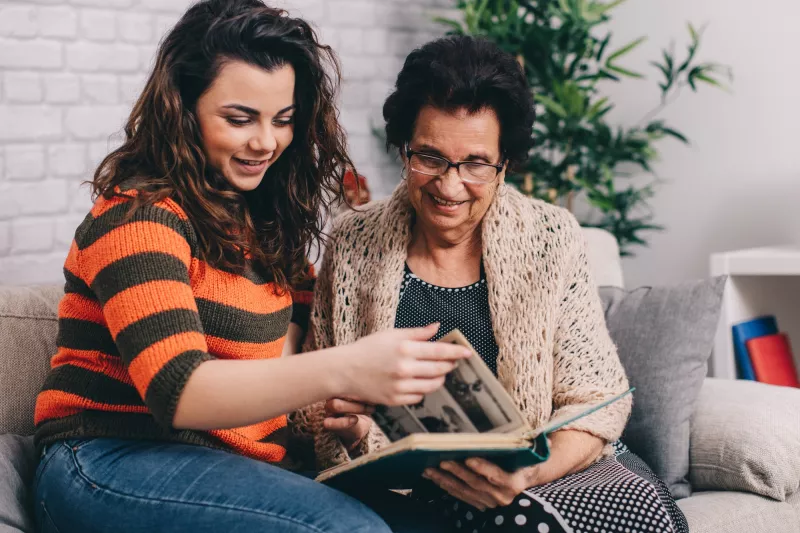 Choose the health content that's right for you, and get it delivered right in your inbox
Getting a flu shot is the single most important thing you can do to avoid the flu and minimize your symptoms if you happen to catch it. But it's also an effective way to reduce the spread of the virus and help protect your loved ones, friends, coworkers and neighbors who have a higher risk of getting seriously ill.
The Centers for Disease Control and Prevention (CDC) recommends that everyone over the age of 6 months get an annual flu shot. The flu vaccine is updated every year to protect against specific strains of influenza that are the most likely to circulate in the upcoming flu season.
How Flu Spreads
Flu is a contagious respiratory illness caused by the influenza virus. Flu spreads when people infected with the virus cough, sneeze or talk, transmitting virus-laden droplets into the air. Others nearby can become sick if they breathe in those droplets or touch a surface or object where they landed, and then touch their mouth, nose or eyes, the CDC says.
If you have the flu, you are most contagious in the first three or four days. But you can also pass the virus to others beginning one day prior to the appearance of symptoms — before you even know you're sick — and up to five to seven days after becoming ill. People with compromised immune systems can spread the virus for longer than seven days, the CDC advises.
Serious Flu Complications
The common symptoms of flu are fever, cough, sore throat, runny nose, muscle aches, headache and fatigue. If you've had the flu, you know that experiencing some or many of these symptoms for several days is no fun. You feel sick and miss work and activities you usually enjoy while your body fights the infection.
Most people who get the flu recover after a few days and up to two weeks. But some people develop serious and life-threatening complications. Sinus and ear infections are considered moderate flu complications. Pneumonia, on the other hand, is a serious lung infection caused by flu or a combination of flu and bacterial infection that can even be fatal.
According to the CDC, the flu can cause these serious health issues:
An extreme inflammatory response throughout the body that results in a life-threatening condition called sepsis

Brain inflammation

Inflammation of the heart muscle

Muscle inflammation

Multiple organ failure, including respiratory and kidney failure

Pneumonia

Worsening of existing chronic issues, such as heart disease or asthma
Understanding Who Is at Risk
Here's an overview of the factors that raise the risk of serious illness with the flu:
Adults 65 years of age and older: Older adults, especially those living in nursing homes and long-term care facilities, have a high risk of serious flu complications. Immune responses generally decrease with age. During past flu seasons, an estimated 70% to 85% of deaths and 50% to 70% of hospitalizations due to seasonal flu have occurred in this age group.
Young children: Flu is more dangerous for children than the common cold. Children under 5 years of age, especially those under the age of 2, have a higher risk of developing pneumonia, dehydration and brain problems after catching the flu.
Pregnant women: Changes in the immune system, heart and lungs that occur during pregnancy raise the risk of severe flu complications. Flu symptoms may also harm a developing baby. For example, fever is a common flu symptom that can cause neural tube defects and other problems as the baby grows. When a pregnant woman has a flu shot, she can pass antibodies to her baby, which helps protect the infant after birth.
Asthma: People with asthma, even those with mild asthma or asthma that is well-controlled by medication, have an elevated risk of severe flu complications. Flu can increase inflammation in airways that are already swollen and sensitive, make symptoms worse and trigger asthma attacks. Adults and children with asthma are more likely to develop pneumonia after catching the flu than people who do not have asthma.
Heart disease and stroke: Studies have found that heart disease is one of the most common conditions among adults hospitalized for the flu. Flu has also been associated with an increase in heart attacks and strokes.
Diabetes: Diabetes can lower the immune system's ability to fight infections. People with Type 1, Type 2 or gestational diabetes have a high risk of pneumonia and bronchitis, which may result in hospitalization and even death. Flu can also make diabetes worse by making it harder to control blood sugar.
Cancer: Cancer patients undergoing treatment and cancer survivors often have compromised immune systems, elevating their risk of severe illness with any infection. Recognizing this risk, the CDC recommends that people who live with or care for cancer patients and survivors should have an annual flu shot.
Chronic kidney disease: Kidney disease weakens the immune system, reducing its ability to fight off infections. People who have any stage of chronic kidney disease, are receiving dialysis treatment or have had a kidney transplant stand a higher risk of experiencing severe illness with the flu.
HIV/AIDS: People who have the human immunodeficiency virus (HIV) and therefore a low number of immune cells or are not taking antiretroviral therapy have an elevated risk of being hospitalized for lung or heart problems during flu season compared to other times of the year. Some people with HIV may experience prolonged flu symptoms and shed the virus over longer periods.
Flu Shot Benefits, Especially This Year
All individuals over 6 months of age should get an annual flu shot, with rare exceptions, the CDC recommends. Flu shots reduce severe illnesses, hospitalizations and deaths. In the event you contract COVID-19, a flu shot will also allow your body to fight the coronavirus with reduced likelihood of contracting the influenza virus.
A range of flu vaccines in different formats are approved for use in various groups of people:
The CDC recommends getting a flu vaccine ideally by the end of October. But you can still get vaccinated later in the flu season and into the winter.
Keep Yourself and Others Safe From the Flu
Getting a flu shot is the single best way to prevent contracting the flu. But it's also an important way we can help keep those around us healthy and safe this season and beyond.
Flu vaccines are available at any Centra Care Urgent Care locations.