Getting Your Flu Shot Is Essential as COVID-19 Continues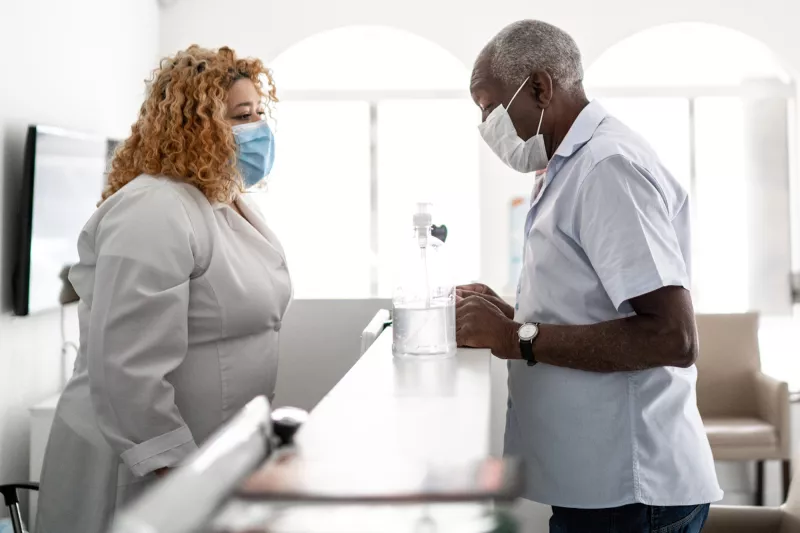 Choose the health content that's right for you, and get it delivered right in your inbox
It's official: The flu shot is more important than ever this flu season with COVID-19 still on the scene.
The flu vaccine is the best way to protect your family against the flu, which can be dangerous and life-threatening. It's the most effective thing you can do to prevent getting the flu or reduce the severity of symptoms if you do catch it.
Here's what you should know about how, when and why to get your flu shot.
Why the Flu Shot Matters Even More This Year
Flu season this year will occur while COVID-19 is still circulating in communities. Flu and COVID-19 are both contagious respiratory illnesses, but they are caused by different viruses. Getting sick with one of them could be dangerous; getting both at the same time could be disastrous.
Continue to do your part to reduce the spread of coronavirus by practicing social distancing, wearing a mask in public settings and washing your hands frequently. These everyday preventive measures are also recommended for reducing the spread of flu in your community.
Flu Can Be Dangerous
Common signs and symptoms of flu include fever, cough, sore throat, runny or stuffy nose, muscle or body aches, headaches and fatigue.
People with the flu often miss work, school or other important activities for up to two weeks. Most individuals recover without serious complications, but for some, the flu leads to serious illnesses, hospitalizations and even death.
People who have a higher risk of serious complications from the flu include adults over the age of 65, very young children, pregnant women, and those with chronic medical conditions, such as asthma, heart disease and stroke, diabetes and chronic kidney disease.
The Flu Vaccine Is Safe and Effective
The flu shot is the single most important thing you can do to prevent getting influenza. It lowers your chances of catching the virus and reduces your odds of having severe symptoms if you do come down with it.
The flu vaccine is safe and effective. Research reviewed by the CDC shows that the flu shot prevents the following outcomes in the United States every year:
1.6 to 6.7 million illnesses

790,000 to 3.1 million outpatient medical visits

39,000 to 87,000 hospitalizations

3,000 to 10,000 deaths
There are many different influenza viruses, and they are always changing. The CDC's Advisory Committee on Immunization Practices (ACIP) reviews research every year to determine the three or four flu viruses that are expected to be the most common in the next flu season. Vaccine manufacturers update the flu shot ingredients accordingly to provide you with the best possible protection against the expected flu strains.
Flu vaccines in the United States typically protect against four different flu viruses: two influenza A viruses (H1N1 and H3N2) and two influenza B viruses. Some vaccines protect against three different flu viruses: two influenza A viruses (H1N1 and H3N2) and one influenza B virus.
The flu shot reduces the risk of flu by 40% to 60% during flu seasons when it is well matched to the predicted viruses that circulate. That's a substantial risk reduction that's well worth your time.
Who Should Get a Flu Vaccine?
All individuals over 6 months of age should get an annual flu shot, with rare exceptions. The Advisory Committee on Immunization Practices (ACIP) has approved different types of flu vaccines for this year's flu season:
If you have questions about which format is right for you or your loved ones, talk to your doctor.
Recommended Timing
Since it takes about two weeks after the flu vaccine for protective antibodies to develop, it's ideal to get vaccinated by the end of October. You can still get vaccinated later in the flu season, even into January and beyond, but the benefits may wane if you wait until late spring.
Keep in mind that children between 6 months and 8 years of age who are having their first-ever flu shot, or who have only ever had one flu shot in the past, will require two doses, spaced four weeks apart, according to the CDC. If your child needs two doses, make sure to start early so that they are protected before flu spreads in your community.
Stay Safe, Get Vaccinated
It's even more important for you and your loved ones to get a flu shot this year as the pandemic continues. Flu vaccines are available at any  Centra Care Urgent Care locations. Rest assured that we're continuing special safety measures at all AdventHealth facilities to keep you and our team members safe.