How Long Does It Take to Get a Flu Test and Results?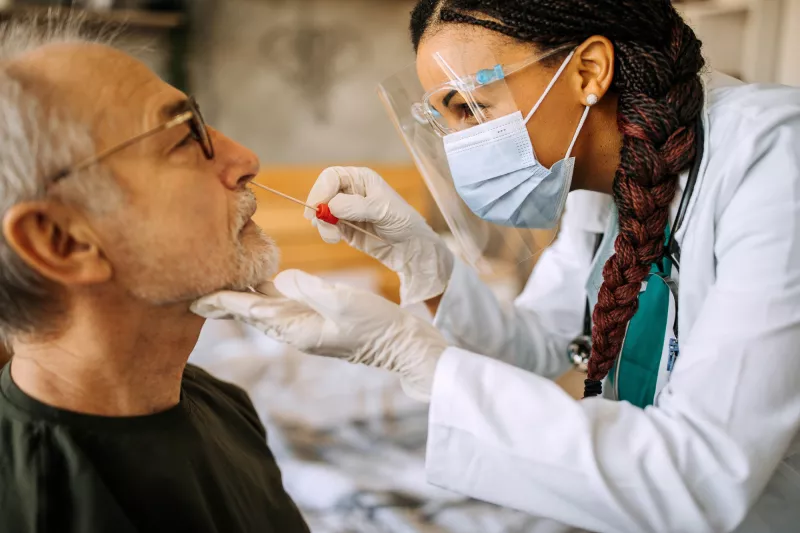 Choose the health content that's right for you, and get it delivered right in your inbox.
With flu season quickly approaching, are you prepared to keep your family healthy? Keeping the flu out of your household involves a series of factors, including practicing proper hygiene and avoiding those who are already sick. Another way to make flu season smoother is access to fast and effective flu test options.
Flu tests can provide an official diagnosis sooner and get you the treatment your body needs to heal faster. But how long does it take to get a flu test? Keep reading our comprehensive guide to learn more about the types of flu tests available and how fast each one can give you results.
Types of Flu Tests
There are three main categories of flu tests: rapid influenza tests, rapid molecular assays and specialized laboratory tests. Find out the process behind each one and how quickly they produce results.
Rapid Influenza Diagnostic Tests (RIDTs)
Rapid influenza diagnostic tests, or RIDTs, are immunoassays used to identify the presence of influenza A and B viral nucleoprotein antigens. Rapid influenza diagnostic tests use respiratory specimens to yield either a positive or negative result for influenza.
Process
During a rapid influenza diagnostic test, an elongated cotton swab is inserted into one of your nostrils and fed upwards into the nasal passage. The swab is gently twisted to collect enough bacteria from the respiratory tract.
Then, the specimen is inserted and gently stirred into a small plastic vial containing a control solution. When the substances are fully combined, a drop of the sample is placed on an RIDT tester, which is inserted into an electronic analyzer and given 10 to 15 minutes to fully process before yielding the result.
Results Timeline
How long does a flu test take when using rapid influenza diagnostic testing? Rapid influenza diagnostic tests are often used in urgent care settings because of how quickly they are performed. From the time of sample collection, it takes only 15 minutes to get results for an RDIT.
Rapid Molecular Assays
A rapid molecular assay is another type of flu test. This option has a high sensitivity and can be used to detect the presence of influenza viral RNA or nucleic acids in upper respiratory tract specimens.
Process
The rapid molecular assay flu test is performed in the same manner as the rapid influenza diagnostic test. A long cotton swab is used to obtain a specimen from the nasal passage. These samples are blended with a control solution and applied to a rapid tester to produce a fast result.
Results Timeline
Rapid molecular assay tests can yield fast outcomes. In most cases, they only take 15 to 30 minutes to complete before producing a positive or negative result, making them another popular option in urgent care settings, emergency rooms and walk-in clinics.
Specialized Laboratory Tests
Sometimes, a flu test is performed through specialized laboratory tests. For these options, a sample is obtained from the respiratory tract and sent away to a lab for results.
Process
To obtain a sample for specialized laboratory testing, your provider inserts an elongated cotton swab through the nostril and deep into the nasal passage until it reaches the throat. The swab is gently twisted and moved side to side to collect a large enough specimen. At that point, the sample is tightly contained in a collection kit and sent away to the lab for testing.
Results Timeline
While specialized laboratory testing is the most accurate type of flu test, it takes the longest turnaround to get results. How long does a flu test take when sent off to the lab? This depends on the specific type of test and the magnitude of any local flu outbreaks. In most cases, your flu test results should be available within three to seven days.
Benefits of Flu Testing
Flu testing provides several benefits, both for personal and public health. When you get a flu test early on, you can begin effective treatment that helps shorten the duration of your illness.
Flu tests also benefit the general public because they allow those who are infected to have a confirmation of their illness, so they are aware to distance themselves from more vulnerable individuals.
Flu Testing at Centra Care
Stay prepared this flu season by knowing where you can access fast and easy flu testing. At Centra Care, we offer rapid influenza diagnostic tests (RIDTs) throughout North Carolina, Kansas and Florida — helping families stay healthy all year round.
While other urgent care centers have long wait times and accept limited insurance providers, we aim to make the flu testing process run as smoothly as possible. We promptly see patients and deliver timely results to help you get back on your feet sooner.
We're here when you need us. You can conveniently make an online reservation and visit one of our Centra Care locations.