Learn to Soothe a Sinus Infection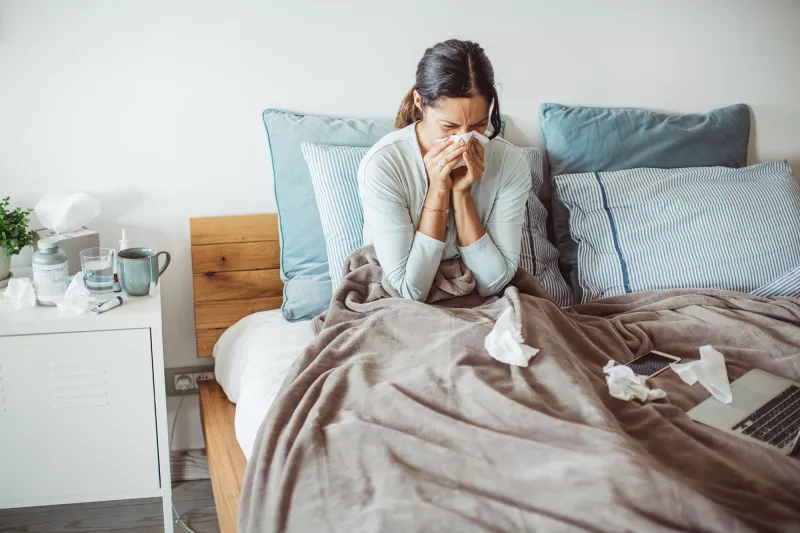 You have an achy, throbbing head and a pile of wadded-up tissues. You feel sick, but what's really going on? If you've had that stuffy nose for a while, you may now be dealing with a sinus infection (sinusitis).
Let's break down what to know about sinusitis so you can feel better faster. And, as always, know that you can count on your local Centra Care team to be there for you and your family.
Sinusitis 101: Signs and Symptoms
Sinus infections happen when your nasal passages swell up (common with colds and seasonal allergies). As the days go on, fluid can build up inside your sinuses and become infected. Symptoms may include:
Coughing
Fever
Pressure in your head
Stuffy or runny nose
Sore throat
Sinus infections can last for weeks or months. To ease your symptoms at home, try putting a warm washcloth on the area where you feel pressure. Drink lots of fluids and rest, too.

If you continue to not feel well, visit your local Centra Care. Our providers can evaluate your symptoms and tell you if an antibiotic or other treatment could help clear things up, so you can feel better.
What to Know: Sinus Infections and COVID-19
Because the symptoms of sinus infections and COVID-19 can overlap, it can be difficult to tell which illness you have. While pressure in the sinuses is often related to sinusitis, the only way to know for sure is by seeing a health care provider, who may recommend COVID-19 testing.

If you're having COVID-19 symptoms, you should still get tested, even if you're vaccinated. After all, it's better to get answers sooner rather than later to protect yourself and others. Click here to make an online reservation.