Flu Test in Daytona Beach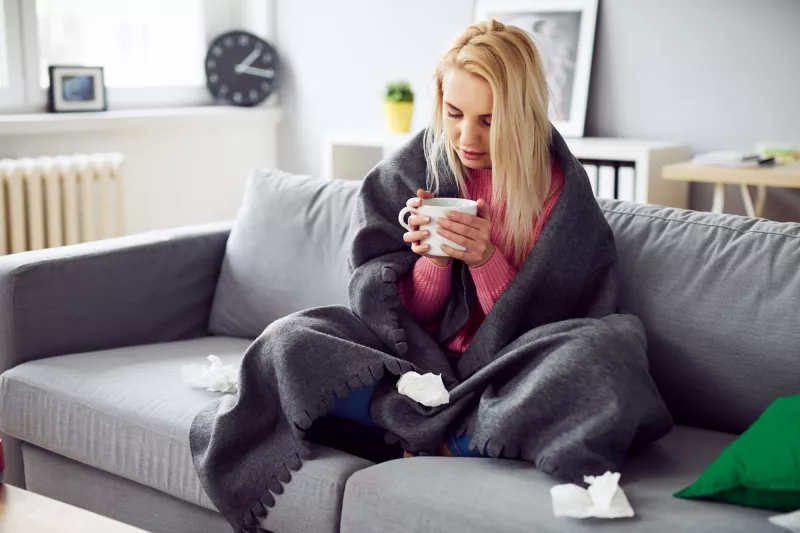 Choose the health content that's right for you, and get it delivered right in your inbox.
Daytona Beach, Florida, is well into flu season. According to the Florida Department of Public Health, this year's flu season began in early October. And this year is likely going to be one of the most severe in more than ten years.
Influenza, also known as the flu, is a viral infection that affects the respiratory system (nose, throat, and lungs). It is caused by the influenza virus and is highly contagious. You can catch the flu any time of year, but it is more common during flu season. The Centers for Disease Control and Prevention (CDC) reports that flu season in the United States can begin in October and continue through May.
At Centra Care, we want to help you find the information you need to manage your own health and the health of your loved ones. In this post, we've compiled information about flu tests, symptoms, risk factors and treatment in Daytona Beach, Florida. We have also provided a list of Centra Care locations, so you can get the flu tests and treatment you need to feel whole.
An Important Note Before You Read
Do not use this blog post as a substitute for a medical diagnosis. If you or someone you know doesn't feel well, talk with your doctor. You can schedule an online appointment with a provider through our Daytona flu testing reservation tool or the AdventHealth app.
Table of Contents
An Important Note Before You Read
Table of Contents
How to Prevent the Flu
Flu Symptoms and Complications
Flu Testing in Daytona Beach, FL
Flu Treatment
Where to Get Flu Tests and Treatment in Daytona Beach, FL

Volusia County
Seminole County
Flagler County
Lake County

Centra Care Walk-in Clinics Are Here to Help
How to Prevent the Flu
The flu is highly contagious. It can be spread from person to person through respiratory droplets that are released when an infected person talks, coughs, or sneezes. The flu virus can also be transmitted by touching a surface or object that has the virus on it and then touching your nose, mouth, or eyes.
The best way to prevent the flu is to receive a flu shot annually. In addition to getting the flu vaccine for yourself, and encouraging others to do so, it is important to practice good hygiene, such as washing your hands frequently. You should also avoid contact with people who are sick.
Anyone with symptoms of the flu should avoid going out in public to help prevent others from getting sick.
People with the flu are most contagious in the first three to four days after symptoms begin. While this is the most contagious period, it is still possible to transmit the flu after four days. Adults can be contagious for up to a week after symptoms begin (or longer if they have weakened immune systems). Children can also be contagious for longer than a week.
Flu Symptoms and Complications
When you start to feel sick, it can be difficult to tell if your symptoms are from the flu, a cold, COVID-19 or even allergies. According to the CDC, one of the most important differences between the flu and a cold is that flu symptoms tend to begin more abruptly.
In adults, the most common symptoms of the flu are:
Chills
Dry Cough
Fatigue
Fever
Headache
Nasal Congestion
Runny Nose
Sneezing
Sore Throat
Shortness of Breath
Skin Rash/Discoloration
There are a few symptoms that can occur with the flu but are less common, including nausea, vomiting, a loss of taste or smell or diarrhea.
Flu symptoms in children are similar to those in adults. Kids' symptoms can include a high fever, body aches (which could be severe), headache, stomach pain, nausea, vomiting, dry cough and extreme fatigue.
The flu can cause serious complications, like pneumonia, that can be life-threatening. Certain groups of people are at a higher risk of complications from the flu. The groups at a higher risk for complications include adults 65 years and older, young children, children with neurologic conditions, and people who are pregnant.
Certain medical conditions can also lead to a higher risk of flu complications. These conditions include asthma, heart disease, stroke, diabetes, HIV/AIDS, cancer, chronic kidney disease, and people with disabilities.
Individuals who fall in these groups should get tested promptly at the first sign of flu symptoms.
Flu Testing in Daytona Beach, FL
If you think you or a loved one might have the flu, it's important to see a medical professional as quickly as possible. You can make an appointment with your primary care physician or visit a walk-in clinic, like AdventHealth Centra Care. Getting tested, diagnosed and treated early can reduce the severity of your symptoms, reduce the likelihood of developing complications and shorten the length of your sickness.
What Is a Flu Test?
Medical professionals and walk-in clinics use flu tests to help determine whether an individual has the flu. The rapid influenza diagnostic test (RIDT) is the most common type of flu test. RIDTs are based on the detection of antigens. These tests are easy to use and can provide results in a matter of minutes. RIDTs are most commonly performed using a nasal or throat swab, which is collected by a healthcare provider.
Why Are Flu Tests Important?
Flu tests are important because they can let you know if your symptoms are from the flu. If you do have the flu, your doctor can recommend treatments that can reduce the severity of your symptoms and decrease the length of your illness. It can also help prevent complications. This is especially important in groups that are at higher risk for complications, such as young children, adults over the age of 65, and people with chronic medical conditions like asthma.
In addition to the individual benefits, flu test results from across the country help public health officials track the spread of the virus. This can provide the public with important information about the severity of the disease in their state. If you'd like more information about the spread of the flu in Florida, visit the Florida Health website.
What Does a Positive Flu Test Mean?
A positive flu lab test result means that you are infected with the influenza virus. If you have a positive flu test, your doctor will help determine the best treatment for you. It is important to get plenty of rest, drink fluids, and stay home to avoid spreading the virus to others. You may also be prescribed antiviral medications, such as Tamiflu®, to help reduce the severity and duration of your symptoms.
What Does a Negative Flu Test Mean?
A negative flu test lab test result means that you are not infected with the influenza virus, and your symptoms are caused by something else. The flu, the common cold, COVID-19 and seasonal allergies can have similar symptoms. Your doctor can work with you to determine the most likely cause and prescribe the appropriate treatment.
Where Can I Get a Flu Test in Daytona Beach?
AdventHealth Centra Care has rapid flu testing available at all five of our convenient locations in Volusia County: Daytona, DeLand, Orange City, Ormond Beach, and Port Orange.
Flu Treatment
Rest, fluids, and over-the-counter medications are not your only options when it comes to treating the flu. There are also several antiviral medications that can reduce the severity of your symptoms and reduce the length of your illness. Antiviral medications are more effective when you take them within the first two days of your illness, so it's important to see a doctor quickly when you start to experience flu symptoms.
What Flu Treatments Are Available at Daytona Walk-In Clinics?
Our expert medical professionals can help you determine which flu treatments are right for you. Your doctor might recommend fluids, pain relievers or fever reducers to help you feel better. They might also prescribe you antiviral drugs, which can help your immune system fight the influenza virus. The FDA has approved four separate drugs to treat the flu. One of these drugs is oseltamivir phosphate, which is known by the brand name Tamiflu®. There are also generic alternatives available.
Tamiflu® or a generic alternative is available at many Centra Care locations for only $30. If you test positive for the flu, you can get this flu treatment in Daytona Beach without having to make a separate trip to the pharmacy.
What Are the Benefits of Getting Flu Treatment?
Getting flu treatment can reduce the severity and duration of flu symptoms, so you can get back to your normal activities more quickly. In addition to helping you feel better faster, flu treatment can also help reduce the risk of serious complications, like pneumonia. For people who are at a higher risk of flu complications, getting flu treatment is especially important. If you get treatment for the flu, you are also less likely to spread the virus to others.
Antiviral medications are more effective if you start them within two days of experiencing flu symptoms, so it is important to visit a doctor as soon as possible if you believe you have the flu.
Where to Get Flu Tests and Treatment in Daytona Beach, FL
AdventHealth Centra Care makes it easy to get the flu testing and treatment you need. We have several convenient locations in and around Daytona Beach, Florida.
Volusia County
● Daytona
1014 West International Speedway Boulevard
Daytona, FL 32114
● DeLand
2293 South Woodland Boulevard
DeLand, FL 32720
● Orange City
1360 Saxon Boulevard
Orange City, FL 32763
● Ormond Beach
1245 West Granada Boulevard
Ormond Beach, FL 32174
● Port Orange
1208 Dunlawton Avenue
Port Orange, FL 32127
Seminole County
440 West State Road 436
Altamonte Springs, FL 32714
2948 West Lake Mary Boulevard
Lake Mary, FL 32746
● Longwood
855 North US Highway 17-92
Longwood, FL 32750
● Ovideo
8010 Red Bug Lake Road
Oviedo, FL 32765
● Sanford
4451 West 1st Street
Sanford, FL 32771
Flagler County
1270 Palm Coast Parkway Northwest
Palm Coast, FL 32137
Lake County
● Clermont
15701 State Road 50, Suite 101
Clermont, FL 34711
● Leesburg
1103 North 14th Street
Leesburg, FL 34748
● Mount Dora
19015 US Highway 441
Mount Dora, FL 32757
Centra Care Walk-in Clinics Are Here to Help
If you think you might have the flu, it is important to get tested and begin treatment as soon as possible. Getting the right treatment can help you recover faster and feel better sooner. The medical professionals at AdventHealth Centra Care are here for you and your loved ones this flu season. Walk in to your local Centra Care or schedule your appointment today to get the care you need.