Keeping You and Your Employees Well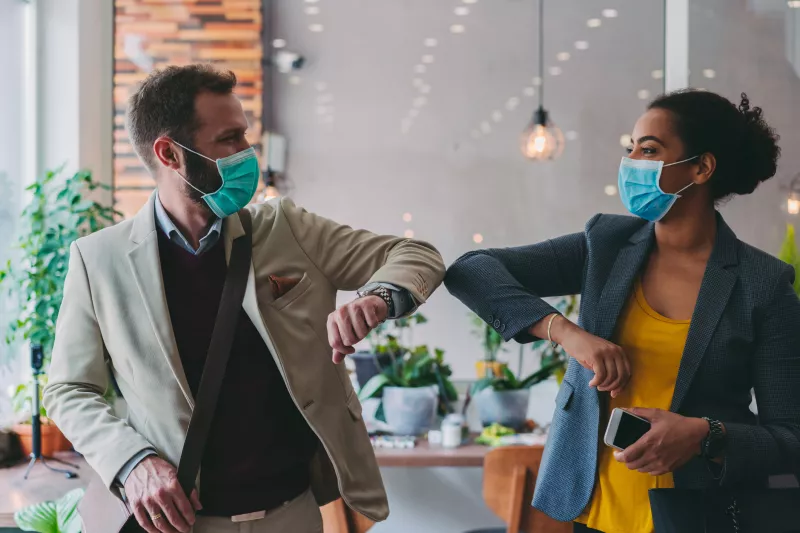 Keeping You Informed: COVID-19
As our AdventHealth Centra Care team members are caring for a record number of patients, Medical Director, Dr. Tim Hendrix, reports that the COVID-19 positivity rate has rapidly increased over a period of three weeks. This positivity rate is similar to rates that previously took three months to reach during the surge in January 2021. To help keep you and your employees informed, Dr. Tim Hendrix has provided recommendations for the top questions we've been asked by employers.
Should I wear a mask at work? What if I'm fully vaccinated?
Yes, masks are still an effective way to reduce transmission of COVID-19 . You should continue to wear a mask indoors even if you're vaccinated due to the current surge of COVID-19.
I'm fully vaccinated, but have some symptoms of COVID-19. Should I get a test?
Yes. If you're sick, or having symptoms, you should still get tested for COVID-19, even if you're fully vaccinated.
What do I do if I've been exposed to someone who tested positive for COVID-19?
If you're exposed and vaccinated, there is no need to quarantine, but you should get tested 3-5 days after the exposure, wear your mask and self-monitor for symptoms. If you're unvaccinated and have an exposure, you must quarantine for 14 days and self-monitor for symptoms. Whether vaccinated or unvaccinated, if you feel ill, you should get tested immediately.
I've just tested positive for COVID-19. How long do I need to quarantine?
If you've been diagnosed with COVID-19, you need to isolate at home for at least 10 days from the start of symptoms, regardless of whether or not you have been vaccinated.
I'm fully vaccinated. Are the vaccines effective against the delta variant?
Yes. Recent studies have shown that all currently available vaccines have a 80-90% effectiveness against the new Delta Variant.
With the rapid rise of COVID-19 infections in our community, it's recommended to resume wearing face masks, social distancing, and practicing proper hand hygiene. The single most effective way to protect your employees is to encourage them to get vaccinated against COVID-19.
For more information, please visit our Safe Business resource page.